Lukutoukka
Lukutoukka is a one word at a time text reader for the GNOME desktop. It reads a text file and displays the contents one word at a time at an adjustable speed.
Lukutoukka is available under the terms of the GNU General Public License.
News
2005-05-12: 0.2 released

Accept a file name as a command line argument
Include MimeType in the .desktop file so Lukutoukka is available in Nautilus as a reader for text/plain files
Use words per minute as speed slider units

2005-05-07: First version, 0.1, released!
Screenshot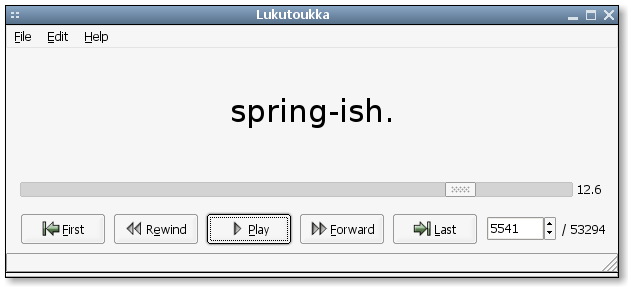 Now imagine that word being replaced by the one after it, really, really fast.
Dependencies
Of course, guile-gnome brings with itself a large dependency tree.
As of this writing (2005-05-07), all the dependencies except guile-gnome itself are available in Debian. The g-wrap library is in the package guile-g-wrap.
How to get it
You can download the latest version from here.
A compressed snapshot of the darcs repository is also available.

Developer contact